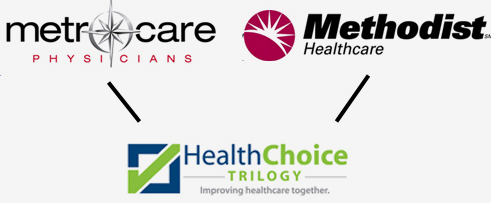 MetroCare Physicians and Methodist Le Bonheur Healthcare partner to form a clinically integrated network (CIN) called HealthChoice Trilogy or Trilogy.
Trilogy provides value-based care, responsible for quality, cost and outcomes.
Providing value-based care requires a common approach to clinical protocols, efficiency (by decreasing redundancy and controlling variation), appropriate place of service, and population healthcare. In caring for a population of patients, Trilogy providers are responsible for the health outcomes of their currently attributed patients.
MetroCare and HealthChoice provide the infrastructure and clinical resources to support Trilogy providers at the both practice level and the network level.
Value-based Contracts
Currently HealthChoice Trilogy participates in two commercial clinically integrated, value-based contracts with UnitedHealthcare and Cigna. Each contract is a shared savings addendum to existing fee schedules. Current UHC and Cigna fee schedules with individual practices remain in effect while the value-based addendum provides opportunity for financial bonus (upside only) via clinical and cost metrics.
The current contracting model for the Trilogy Network continues to evolve. Providers will likely assume more risk in the future, along with an opportunity for increased financial reward.
Participation Requirements
Physicians are required to:
Have access to high speed internet
Utilize electronic claims processing
Use an active email address
Complete participation requirements (meetings, online modules, etc)
Share relevant patient and practice data